Share
Regular price
$240.00 USD
Regular price
Sale price
$240.00 USD
Unit price
per
Sale
Sold out
Out of stock
Update 01 Dec 2023:
We will have some inventory to sell this coming Tuesday 05 Dec 2023. Please note that the available units will only fit the Snow Peak Takibi L. We are still waiting for our supplier to make the custom fitting that allows the Zutto to fit other size flat pack fire pits.
Thank you for your patience.
___________________________
The Zutto is a gas adapter kit for your Snow Peak Takibi Fire & Grill fire pit (fits Takibi L, other sizes will be added in early 2024).

The Takibi is one of our very favorite camping accessories and we wanted to be able to use it safely throughout the camping season, including during wood fires restrictions. When we couldn't find a gas adapter for it, we decided to make our own. The adapter would need be light and low profile, easy to assemble and pack, would not require any modifications to the Takibi, and of course provide heat and ambiance. After creating and testing dozens of prototypes, we landed on this design and we're confident you'll love it as much as we do!
The Zutto kit fits in your original Takibi carrying bag (visit our recommended accessories page for other options) and allows you to have a fire going within minutes of setting up camp, all without needing any tools. It gives you instant and safe ON/OFF capability and can be used as an outdoor cooking option (we don't recommend direct flame cooking because of soot).
By the way, "Zutto" roughly translates to "all the time" in Japanese, and "Takibi Zutto" translates to "bonfire forever." We feel this is an excellent description of what the Zutto will bring to your camping experience.
Contents:
(1) 92K BTU burner
(1) air mixer fitting
(1) laser cut aluminum plate
(1) 0-20PSI regulator rubber hose with quick-release locking socket
Lava rocks (colors may vary) with canvas carrying tote
FAQ:

Which Takibi does the Zutto fit?
The Zutto currently only fits the Takibi Large. We are working on a custom fitting to allow the Zutto to fit other Snow Peak Takibi fire pits, as well as other flat pack fire pits (such as the Camping Moon MT-055).
We tested an 18" burner in the Takibi XL though we found that it would only be useful in a home setting. Every component needs to be augmented (plate, regulator, air mixer fitting) as well as propane supply (a typical 20lb tank wouldn't last long at all with an 18" burner). If you are interested in a custom 18" version, please contact us directly to discuss details and pricing.
How long does a 20lb tank last?
The best answer we can give is "somewhere between 4hrs and over 10hrs." Though the burn time is obviously affected by the size of the flame, it is also affected by outdoor conditions. We don't recommend using a tank smaller than 20lbs. One of those would easily last for a few evenings of modest use, even with some daytime cooking. However if we were camping with others and wanted a larger, more "social" flame, we would bring two tanks (or ask someone to chip in) so they can be swapped should that need to happen.
Are lava rocks really necessary?
The lava rocks help disperse the flames and make a huge difference in radiating and retaining heat. As a matter of fact, it makes such a difference that we never use our Zutto without them.
Not all lava rocks are created equal. Landscaping lava rocks for instance are often full of moisture, not sized properly, have other rocks in them (which can be dangerous when heated). If your lava rocks were exposed to moisture, make sure you dry them off slowly with a low flame before cranking it up.

Can the Zutto be connected to natural gas?
This is kind of a tricky question. We designed the Zutto to burn efficiently with propane, which has a much hotter flame than natural gas, is much heavier and benefits from the air mixer component. That last piece is unnecessary for natural gas and could mix too much air with the gas before ignition. For these reasons, we can't recommend connecting the Zutto to natural gas.
Is it compatible with non-US propane tanks?
The Zutto uses a standard QCC1/Type 1 connection at the regulator end of the hose. Other countries might have different thread sizes and an adapter would be required for the regulator hose to fit on your tank. So far, people have been able to find adapters online.
Where does it ship?
We offer free USA domestic shipping!
For international orders, Shopify will provide shipping options. Please be aware that each country might have an additional import tax charged upon receipt. Read more about our shipping policy.
What about warranty?
We are working on refining our warranty statement. Expect a limited lifetime warranty for your Zutto. Mostly, everything will be covered for lifetime except for the regulator hose (which is a third party item and will be covered by a 1 year warranty).

THIS IS NOT A TOY! Please understand that this device can easily create a large flame. We are not responsible for 
the misuse of the Zutto. Do not use indoors or under any sort of canopy.
Fire pit not included.
Patent Pending (
18/515,045 & PCT/US23/80604)
WARNING:
This product can expose you to chemicals including Lead, which is known to the State of California to cause cancer and birth defects or other reproductive harm (For more information go to www.p65warnings.ca.gov).
View full details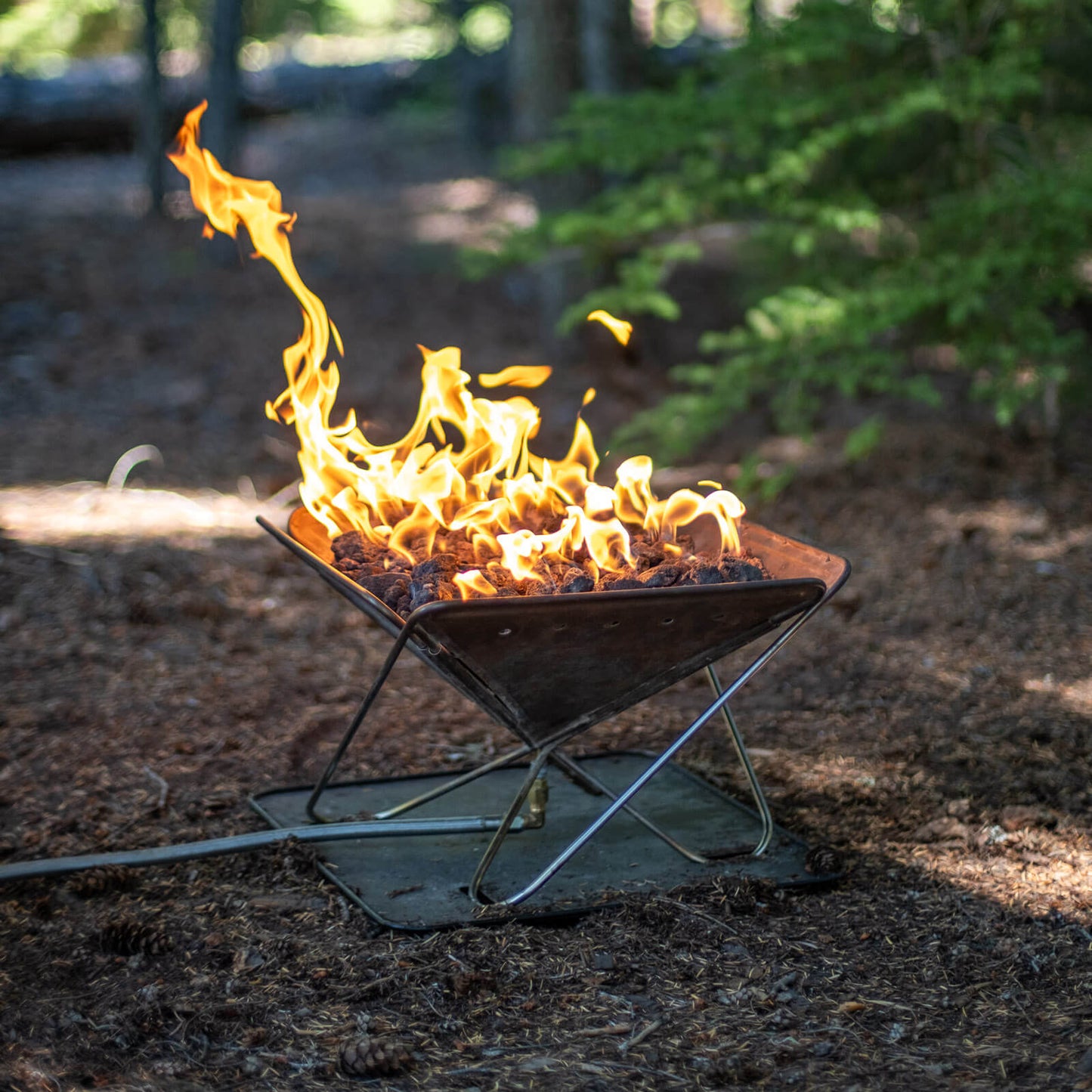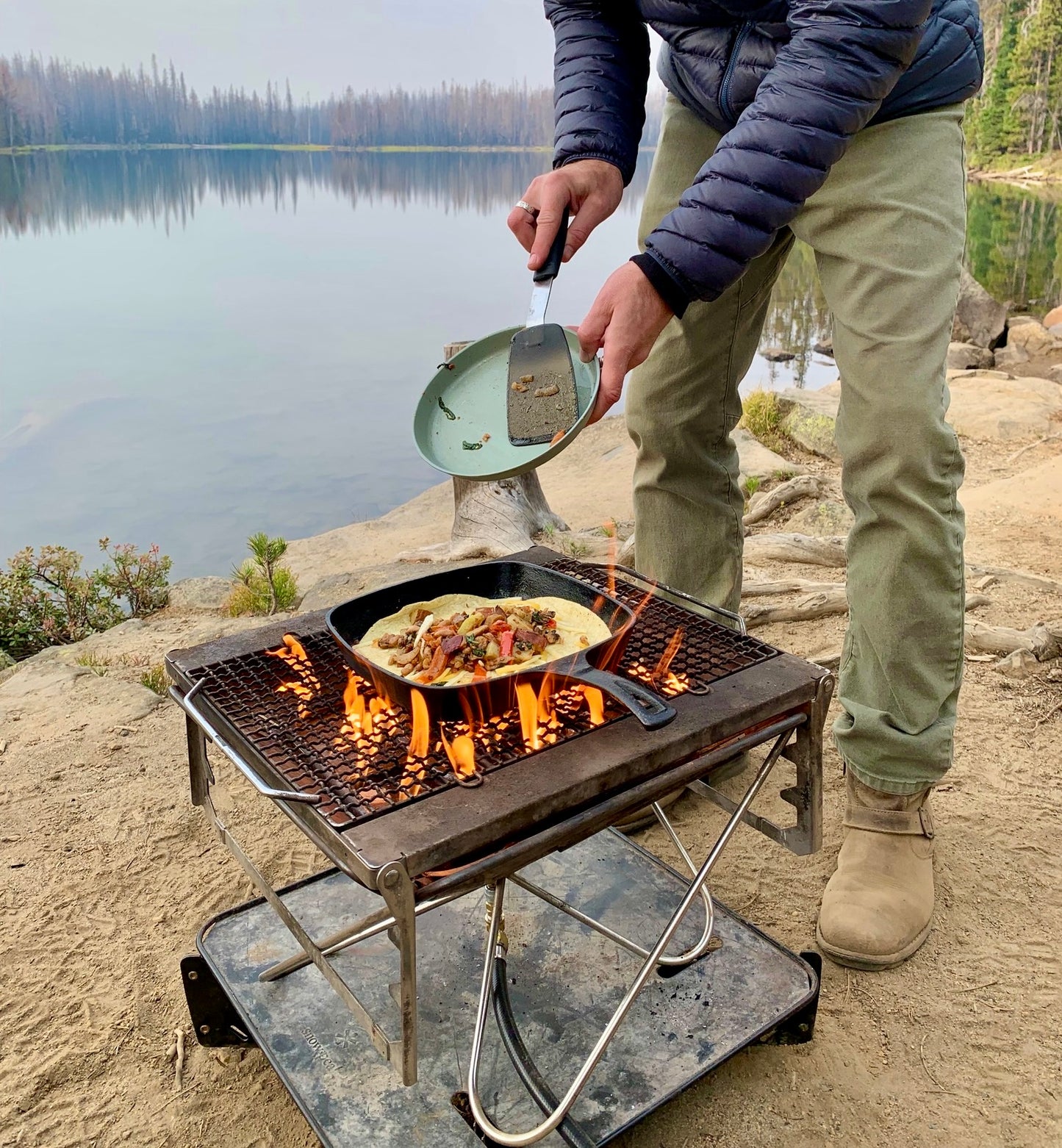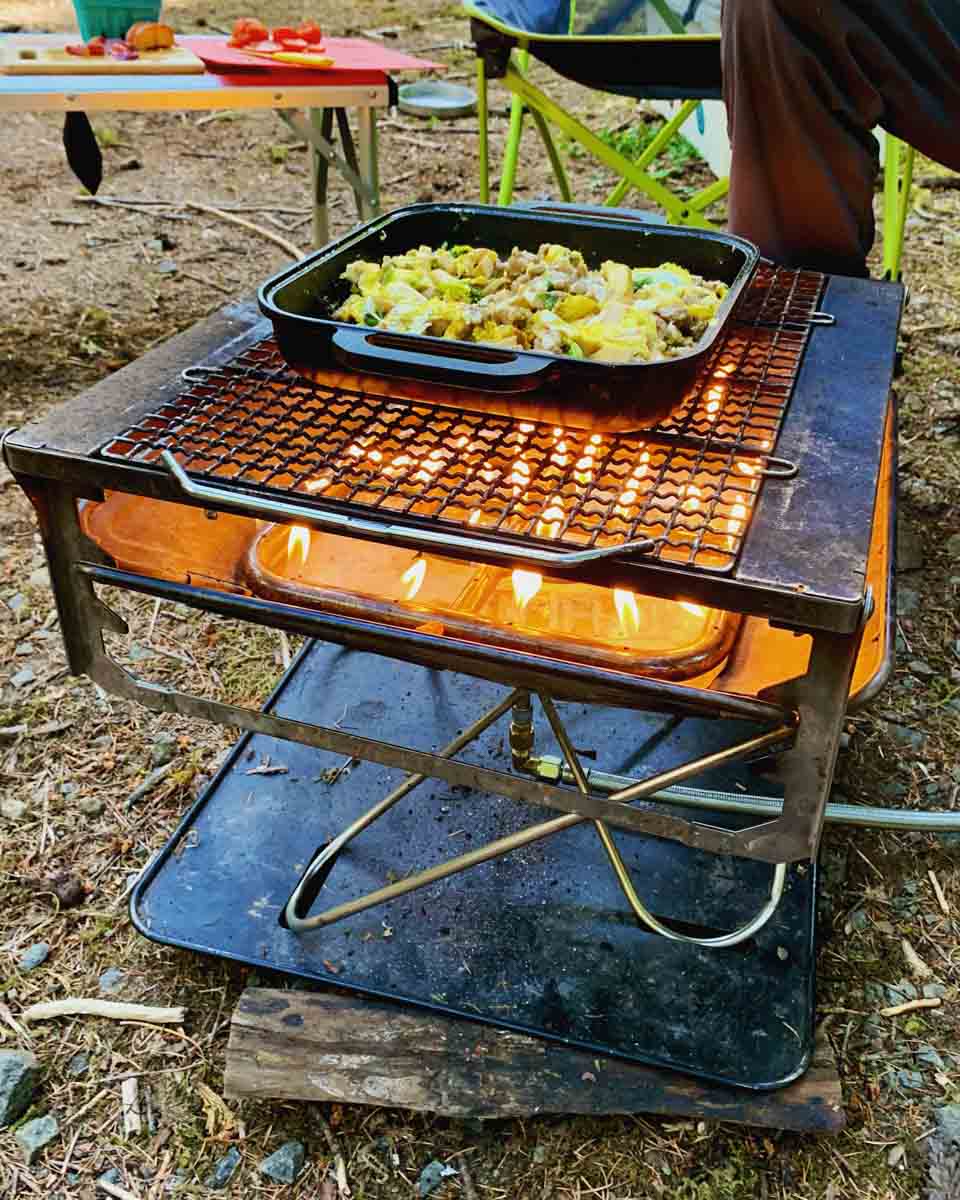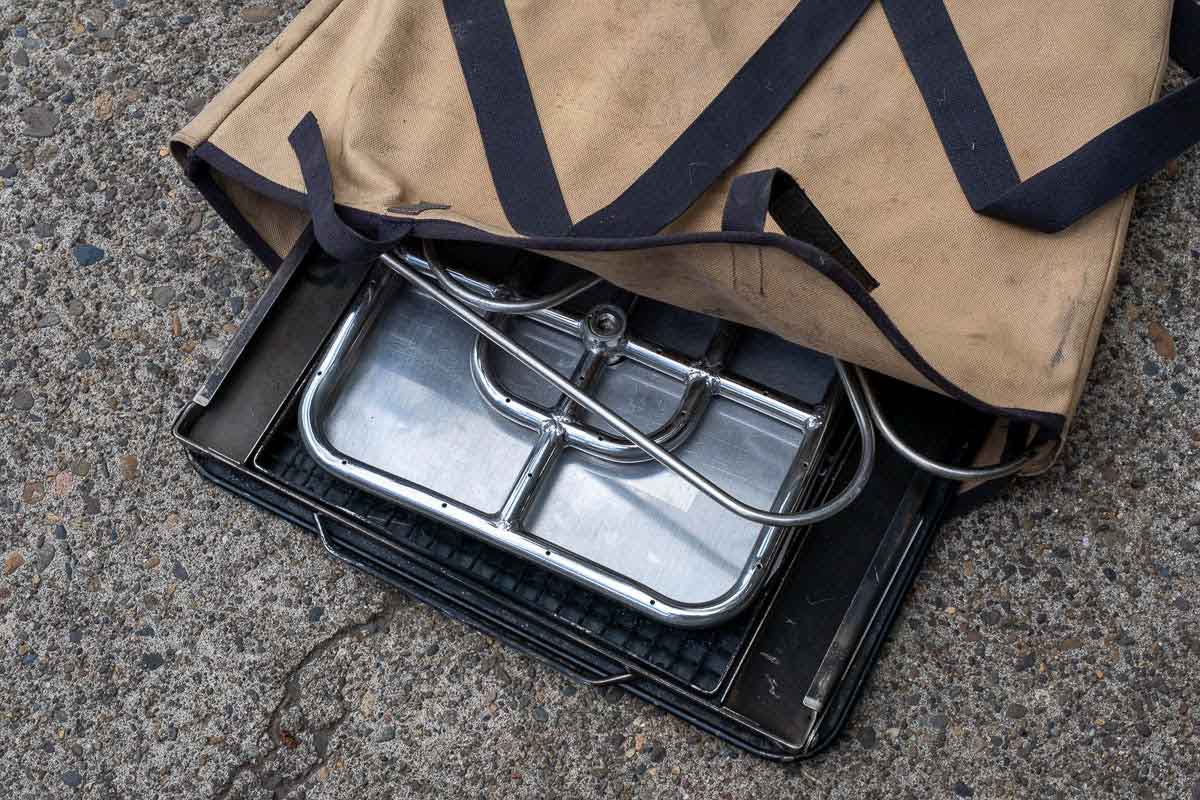 Zutto - Propane adapter for Snow Peak Takibi Fire & Grill fire pit
No wood burn?! No problem!
Some campground don't allow wood burning and Zutto is perfect for places that only allows propane fire pit! Must buy if you own takibi fire pit
Works in Europe (Germany) too…
Just tested my set up since my (separately purchased) German - US propane hose adaptor just arrived via Amazon. All working as expected. Thanks to Guillaume at Zutto for fast clarifications to my questions! Looking forward to some autumn warmth with the Zutto Takibi firepit!
Easy to set up, really convenient!
It's super easy to set up without modifying your Takibi. The fire is powerful enough for a group of 4-8 people. This thing can produce heat! Overall great product and highly recommend you to get one!
The best thing since fire!
We love our Snow Peak fire pit, however when there is an open fire ban we can't use it. We like to camp in dispersed camping areas, so having the Zutto lets us safely utilize our fire pit any time of the year.
The company was extremely responsive when we had questions, and they stand behind their products 100%. If you have a Snow Peak, you need a Zutto!